Are you searching for a state-of-the-art, energy-efficient heating solution for your building? Look no further than LaminaHeat ComfortScrim, a revolutionary low-voltage radiant heating film system that not only provides exceptional performance in primary or secondary heating applications but does so with cutting-edge features.
LaminaHeat presents a series of modern and stylish carbon fibre heating films, with ComfortScrim leading the charge in building heating solutions. This innovative system can be seamlessly installed on floors, wall-mounted, and installed on ceilings, offering a reliable and maintenance-free heating solution. Boasting a 99.7% electricity into heat conversion rate, ComfortScrim is not only environmentally friendly but also economically sound. The system's lightweight and corrosion-resistant nature makes it ideal for a variety of building materials, providing flexibility in indoor heating system design. With widths of 600 and 900mm and roll lengths up to 100 meters, ComfortScrim caters to diverse heating requirements.
Using LaminaHeat's ComfortScrim
Before installation, meticulous planning is crucial. An installation plan should be devised to determine the location of the heating film, power supply unit, wires, and temperature controller. ComfortScrim's unique ability to heat primarily through infrared heating ensures unparalleled comfort. Additionally, the system's compatibility with solar power makes it an eco-friendly choice. The quick reaction time of ComfortScrim, combined with its 99.7% electricity into heat conversion rate, guarantees swift and efficient heating. The installation area should not be obstructed by interior objects, and material compatibility should be verified with the manufacturer. 30% Lower Energy Bill Than UFH or Air Source Heat pumps Increases The Lifespan Of Buidings

36-48V Can Bypass Inverter

Electric Heating System Introduction
The LaminaHeat ComfortScrim Electric Heating System incorporates essential components such as a toroidal transformer (12-48VDC), a 16-20 amps // 220 VAC electronic thermostat, ground and/or wall thermolimitors, soldering tin, and the ComfortScrim itself. With a power range of 80-350W/m2, the heating film is complemented by 1.25mm2-6mm2 electrical wire based on the actual project design.
A diagram of our available solar intergration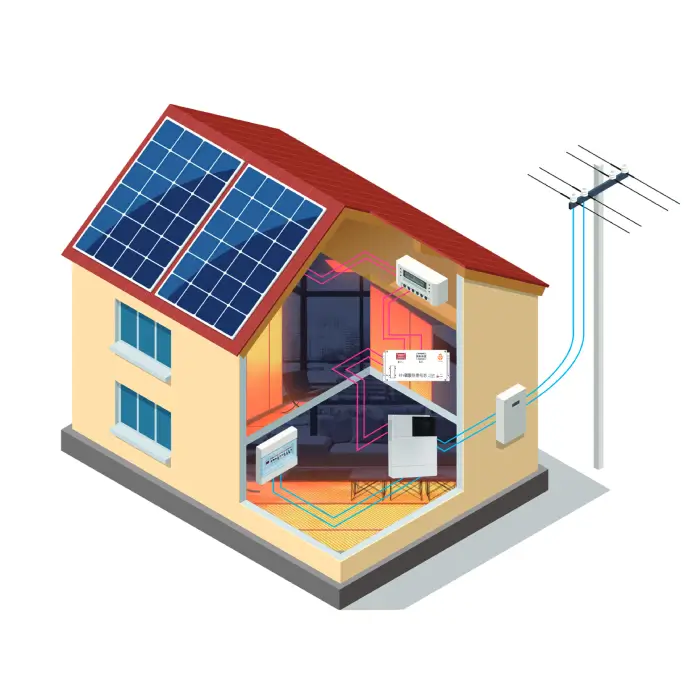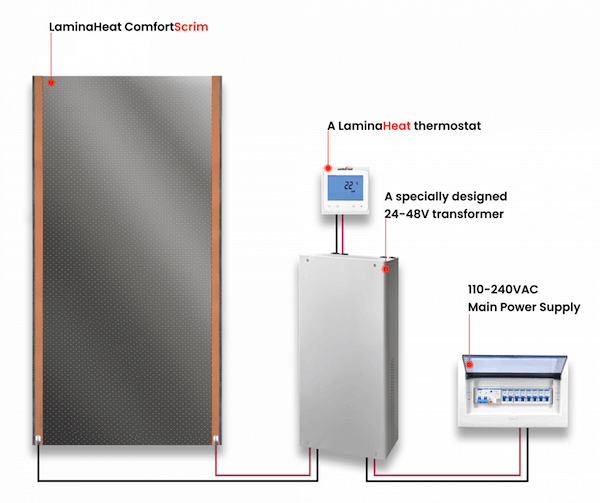 Infrared Heating: ComfortScrim heats primarily through infrared heating, creating an unmatched level of comfort and warmth.
Exceptional Efficiency: Boasting a 99.7% electricity into heat conversion rate, ComfortScrim is an environmentally conscious and cost-effective choice.
Solar Compatibility: Easily pair ComfortScrim with solar power for a sustainable and energy-efficient heating solution.
Quick Reaction Time: ComfortScrim ensures rapid thermal response, creating a comfortable environment swiftly.
Installation Options:
Underfloor Heating: ComfortScrim can easily be installed under a wide range of floorings from floating floor to tiles, to screed or epoxy-based systems. Proximity to the surface ensures a fast reaction time and an efficient comfortable heating effect. Underfloor heating is ideal for large open-plan spaces and spaces where ceiling height exceeds 3.5 meters in height! 
Ceiling and Wall Installation: Comfortscrim owing to its perforated design and being ultra-thin (.4mm), can easily be adhered to any wall or ceiling using any standard adhesive or plaster! This allows the ComfortScrim to reach 40-60C heating primarily through infrared heating evoking a warm sunlike experience! Additionally, since it's installed just mm from the surface the system's reaction time is unparalleled, making it ideal for zoned heating applications, increasing your comfort while reducing your energy bill!
Bathroom Applications: Our ComfortScrim System in the 12-36V range is uniquely suited for the comfortable heating of bathrooms and installed close to the surface, fully waterproof, and running at extra safe voltage guaranteeing you unmatched comfort with absolute safety!
For any queries or information, send us a message using the form on the right, and one of our reps will get in contact with you ASAP or press the button below to schedule a quick call to discuss your needs!